Welcome!
We focus on property management in Pensacola, so you can worry about the things most important to you.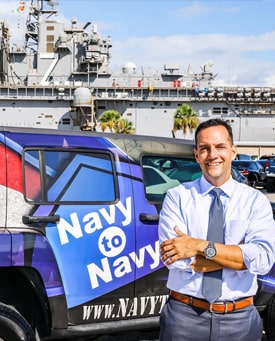 Hi. I'm Mario Gonzalez with Navy to Navy Homes.
Navy to Navy Homes is a top-rated Florida-based property management and real estate company and we're excited to announce - we're NOW OPEN in Pensacola.
Our full website for Pensacola Property Management will be launched in March 2020, but until then, feel free to contact us to get a custom property management quote or get a FREE Rental Analysis for your Pensacola property.
Want to learn more? Check out our Jacksonville location website at NavytoNavy.com to learn about our services, our team, and our goal to put our customers and community heroes first in all we do.
Pensacola Property Management Services:
Tenant Placement Services for DIY Landlords in Pensacola
Basic Package:
Don't worry about whether you got the right tenant in the first place? We'll take care of that for you.
Complete Rental Analysis
Vast Internet Marketing
Professional Home Showing
Full Tenant Screening
Fast Vacancy Filling
Lease Signing Options*
Property Management Services for Pensacola Real Estate Investors and Homeowners
Standard Package:
Full Pensacola property management service option for those property owners who need to know their property is in good hands. With over 120 Google reviews and a 4.7-star rating, it's easy to see we LOVE our customers!
Get our full Basic Service Package (including tenant placement and marketing) PLUS:
Lease Signing
Monthly Rent Collection
Coordinated Repairs
Routine Inspections
24/7 Owner Online portal
Full Protection:
Want full protection? Our Full Protection package comes with the full management service offered in our standard package, everything included in our Basic Package (including tenant selection and marketing), AND Eviction Protection. No matter where you are, we will handle it all for you.
Get our full Standard Property Management Package AND Basic Property Management Package PLUS:
Full STANDARD Service +
Eviction Protection
Legal Action when necessary
Tenant Removal & Repairs
Fast Turn Around and Vacancy Filling